Bienvenue !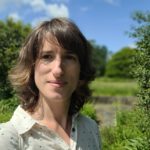 Je suis Clémence Paboeuf, formatrice indépendante en langue française et anglaise, titulaire d'un master de Français Langue Étrangère de l'Université de Nantes. J'enseigne les langues depuis 2013 et vous propose les prestations suivantes :
Cours de FLE (français pour les étrangers) à Nantes et en ligne
Cours d'anglais à Nantes et en ligne
Formations professionnelles éligibles au CPF et financements OPCO
Ateliers linguisitiques et team building
Soutien scolaire pendant l'été
Clémence Paboeuf  est un organisme de formation enregistré sous le numéro 52440800644 auprès du préfet de région des Pays-de-la-Loire. Cet enregistrement ne vaut pas agrément de l'Etat.


clemence.paboeuf


clemencecoursfle
______________
Welcome!
I'm Clémence Paboeuf, a qualified freelance French and English teacher. I teach languages since 2013, and here are the services I offer:
French language courses in and around Nantes, and also online
English courses
Training courses for professionals, including CPF-eligible training courses
Language workshops and team building activities
Private tutoring

Contact me here !
Clémence Paboeuf